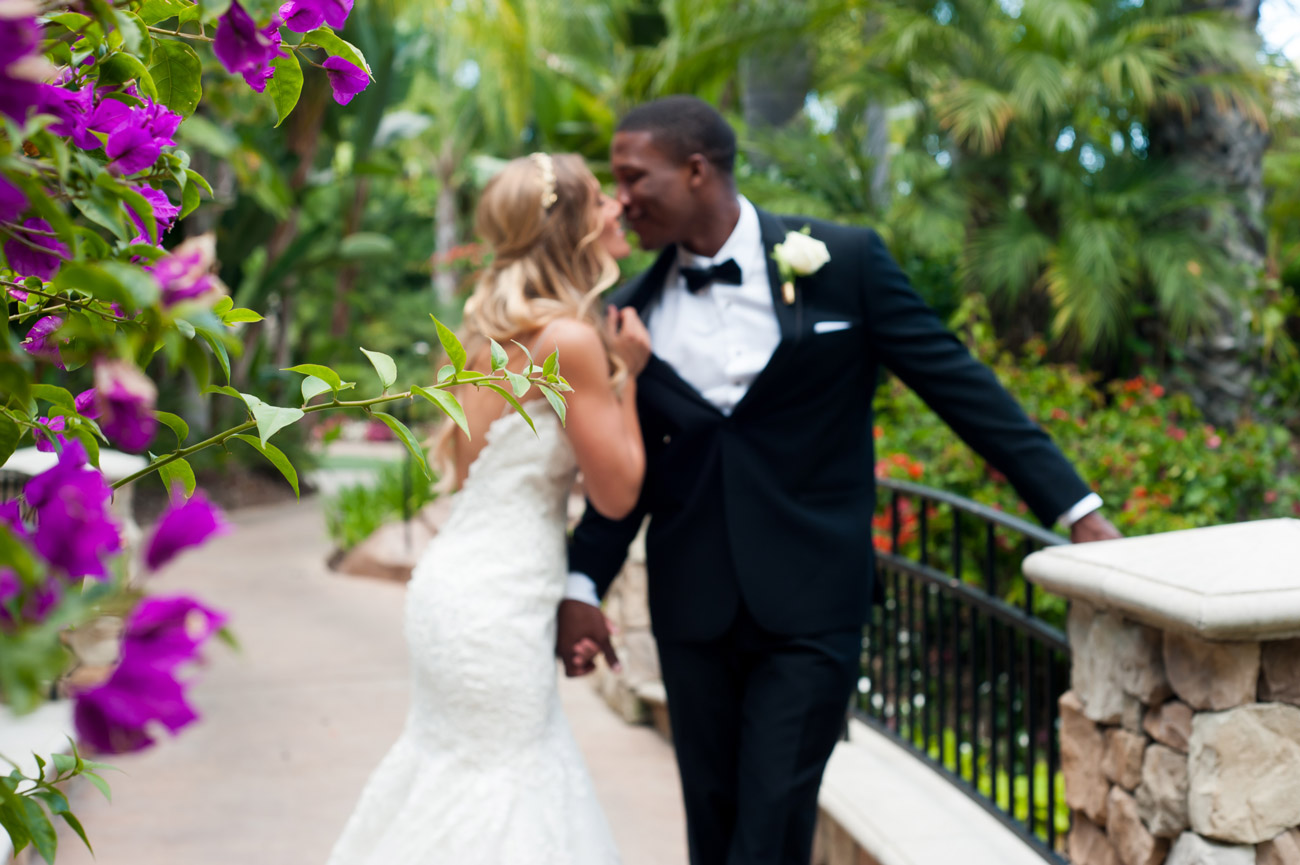 The cost of weddings is on the rise, averaging between $19K-$25k dollars per couple in the United States. In image-conscious Southern California, the average cost for a wedding in California is even higher, ranging from $25k-$40k dollars. Although this figure is skewed upward by the small percentage of individuals who go all out on extravagant luxury events, nevertheless a wedding is one of the biggest expenses a couple will face next to a down payment for a home or purchasing a luxury car.
Hiring a professional wedding photographer represents a sizable proportion of a wedding's total cost. Couples can expect their wedding photography investment to be between 10-12% of their total wedding budget for a professional wedding photographer in San Diego. This estimate would only include the photographer's time and talent (service). Photo goodies are not factored into this percentage. Here is an example: If the wedding budget is $30k, the wedding photography investment for a professional wedding photographer in San Diego is $3,000-$3,600. Couples who have a destination, remote, or difficult to reach wedding location might be asked to pay a higher rate, as the photographer will have to include travel expenses and transport sensitive equipment to the site.
Of course, it would be up to the couple to decide on the wedding budget priority. If wedding photography is a high priority, the couple should allocate 12% to ensure they get the wedding photographer they desire. After all, couples spend months planning a dream wedding, it deserves to be captured by their dream photographer.
Although it may be tempting to forgo this big wedding expense, here are reasons why investing in a professional wedding photographer is worth it:
1. Psychological Experience
The professional photographer has the psychological know-how to anticipate every twist and turn of the wedding event because the photographer has worked so many similar occasions in the past.  Photographers have an instinct for timing. They watch their surroundings and know when to trigger at the right moments to capture the story.
The pro photographer is also not likely to get caught up in the enthusiasm or distractions and even calamities that sometimes plague even the most carefully planned events, so the photographer can be counted on to capture things favorably, no matter what comes.
It's not wise to have a wedding photographed by an "uncle bob" who is actually a guest and not a professional wedding photographer. It may be great for the couple's wedding budget, but not great when simultaneous wedding moments are missed and not captured. Unless your "uncle bob" is a wedding photographer, a wedding should not be a "practice session". If you opt for "uncle bob" that is a wedding photographer…hire them to ensure there's an agreement and obligation that they are to be the wedding photographer vs a guest.
2. Technical Expertise
Professional photographers understand all the factors to deliver the best lighting. One of the main reasons amateur photography fails to create beautiful images is that amateurs don't know how to work with the given lighting situations whether it is natural or artificial lighting. Also, photographers know how to add more lighting to compliment the subject. If the bride doesn't want to risk looking sallow or haggard on her special day, good lighting is essential.
3. Artistic Vision
Taking photos is not only about pointing and shooting. Nor is photography about taking photos for the sake of sharing on social media. Photography is an artistic vision and involves a creative process. From getting to know the couple, drawing out the couple's connection, and conveying their love story through images. Consider a wedding a future piece of artwork and the photographer is, of course, the artist! A great professional wedding photographer can turn a wedding into pieces of photographic artwork to enjoy a lifetime.
4. Directs for the Best Picture
Similar to lighting, photographing people alone is dynamic. Everyone is beautiful in their own way and professional photographers know how to direct the subject in poses and angles to make them picture ready and perfect. Maybe the subject is already comfortable with posing their bodies, but not just yet with the photographer. Professional photographers know how to read body language and strike a conversation to make couples comfortable and smile.
5. Master Multi-tasker
A professional photographer is not only a photographer but in many ways a couples' new friend that they can open up to. Also, an experienced photographer displays project management skills to help organize the wedding day photo itinerary.
By nature, a pro photographer needs to be a multi-tasker at any given moment with eyes and ears open. For example, gathering the family and bridal party politely for group photos with the couple while keeping track of time plus taking note of impromptu photo requests.
6. Careful Preparation and Backup
Wedding photographers know the importance of being prepared, so they always carry backup equipment to the weddings they photograph. Professionals understand that nothing could be more horrible than a piece of equipment that malfunctions at a crucial moment. Likewise, a professional photographer will usually make a backup copy of the photos.
Yes, Your Wedding is Worth it!
These important considerations allow the couple to enjoy their BIG day, knowing they have hired a  professional wedding photographer to artistically capture beautiful memories. Remember it's one of the few wedding investments that can last a lifetime!
Note: The couple featured above is my gorgeous B+G Laressa + Ondre!
---